What a week!!! We launched HelpMeOrder on August 3 to little fanfare. Over the next 7 to 10 days, we began to slowly tell close friends and family members the big news, but even still, it didn't feel like anything had changed. After all, most of our friends and family were already familiar with the idea and had probably been part of our beta testing. But then, this week happened. It started with this fun interview on CBC Radio with Maggie Gillis on the St. John's Morning Show. A couple of hours later, our first feature story came out on CBC online.
Before long, HelpMeOrder was being favorably reviewed on The Overcast. To top it all off, HelpMeOrder was selected as one of the top 10 startups in the Genesis Centre's Evolution Program and was invited to pitch at the Pitch and Pick Event in a couple of weeks. This roller coaster of a week left us thrilled and brought about the advent of our first vibrant community of early adopters (mostly in St. John's and Mississauga) who are excitedly making great use of the app and evangelizing to others. Not bad for one week.
An idea 19 years in the making
When I was asked during last week's interviews about the inspiration for this idea, I answered with a story about a vacation Mina and I took together in 2014. Which, while true, isn't really doing the story justice. To get the full picture, you have to rewind a little. Check that, you have to rewind a lot. 19 years to be exact; the summer of 1997. I was 14 and my family had just moved to Canada and didn't really know anyone. We were staying at my uncle's place at first and it just so happened that Mina's mom used to babysit my cousins. So, when one day both our families happened to ride the same Mississauga transit bus, his mom urged Mina to befriend me since I was new and had no friends… ouch. Well, time went on and while we attended the same church and were even in the same class for youth group and international language school, we ended up hanging out in different circles and were just acquaintances at best. But as luck would have it, as we graduated high school, we both ended up choosing to study Computer Engineering. Mina going to the University of Toronto and me to McMaster.
But since we both lived in Mississauga, we would often wind up studying together at the Mississauga campus of UofT. But as our other friends would stress out about the non-ending exams, assignments and labs. Mina and I somehow clicked. We both had this stubborn "I will not let Engineering get the best of me" attitude. Mina would often go for a long swim before exams to relax himself and I was famous for walking into lectures late with a squash racquet sticking out of my backpack only to fall asleep in the middle of the lecture hall a few minutes later. Before we knew it, we would spend endless nights at each other's homes "studying". These study sessions soon turned into all-nighters playing ping-pong and Nintendo Wii. I know I'm making it sound like we were a bunch of undisciplined flunkies, but that's far from the truth. We just had an unorthodox way of dealing with the stress and it made for some good memories too.
After completing third year of engineering, we each applied to and were selected for 16 month internships. Him at Nortel in Ottawa and me at Gennum (now Semtech) in Burlington. It was during this internship year in 2004 that we got into the habit of keeping each other entertained over instant messaging (MSN Messenger) and email. Fast forward another 2 years, and we graduate from Engineering and head on our first trip together along with our mutual friend, Antwan, on an unforgettable three week backpacking trip around Western Europe.
Fast forward a few more years and we both enter a new stage in our personal lives. We each have full time jobs designing computer chips. We each get married, I move to Egypt for a couple of years, come back and move to Newfoundland and have a couple of kids. Mina ends up starting his own successful web and mobile development company and makes the bold move of having 3 kids in 3 years. But throughout all of this, we maintain our ongoing conversations on instant messaging and dream of one day coming up with a billion-dollar idea and starting a business together. At one point, we had an email thread amongst our group of engineering friends where each day one person would suggest a business idea and the others would critique it.
With my move to Newfoundland, I also started my own consulting firm offering FPGA design services and began to work from home. Since we were the only ones among our friends not limited by the commitments of a 9 to 5, we began to wonder why we had to work from the same place all the time. If we could find affordable last minute Caribbean getaways, couldn't we make a good living while lounging on the beach? Hence, Work-ations were born. We started with a 5-day trip to the Bahamas (pre kids) which was an astounding success and followed it up with forays to Punta Cana and Mexico. It was during this latter trip to Cancun, Mexico, when Mina casually discovered those delicious breakfast sausages from the kids table that conjured up memories of our childhood days of eating "Sosees" (Tiny Egyptian hot dogs). Just after the trip, Mina shares the idea for HelpMeOrder with me. I dug around my Skype history until I found this gem: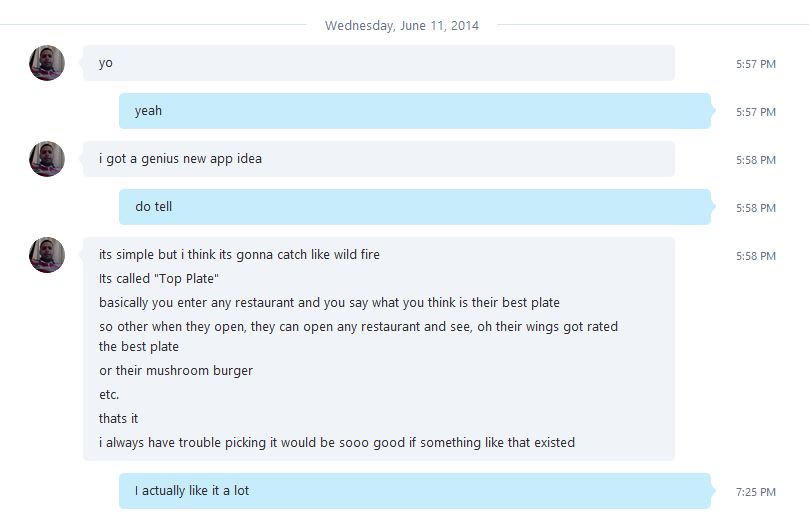 We went on to discuss the details. It's actually fascinating because some of those decisions made on the first day are things that we stuck with till now. We ended the conversation that day with a promise to come up with a list of features. A couple of days later, Mina mentions the connection to our trip to Mexico.

So, there you have it folks. Our first blog post ended up being a lot longer than I had anticipated, but going down memory lane proved to be just way too much fun. Now it's your turn, do you have any outrageously silly inventions that you thought up with your buddies one night but haven't done anything about it? Share them in the comments below. Until next time, make sure you order a great meal and vote for your favorites people.

Peter is an entrepreneur, engineer, husband, father, blogger, and wannabe food critic.

Latest posts by Peter Francis (see all)